Featured Property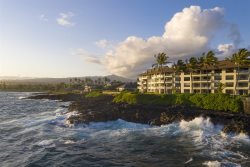 Oceanfront luxury with a million dollar view and AC!
Paradise Veins
Catch of the day whales frolicking play
Harken their tails on blue tide of day
Come the squall a tale of all the dolphins bounding sprawl
Grazing the beaches the sun finally reaches touching us all
Turtles endless scroll of the bounding shoal read waves of Braille
Feast the features of colorful sea creatures upon winds of sail
Wave the palms in rhythmic psalms singing island praise
Piers of destiny lead tropical wings in melodic plays
Paradise veins course the remains of my former self
Shorely to think horizons of pink of nothing else
I have arrived.
Mark Twain Samuel Clemens
Great-great-grand nephew of Mark Twain
Natively born, Honolulu HI
Guest of #206A 3/6/12
Available Properties
Loading Available Properties
Flexible Dates? View other Properties close to your Date Range.
Available
Unavailable
Check-in
Check-out
Not finding what you're looking for?